Feel like a King or Queen for the night
Ireland has many things to offer and one of those is castles. Take a drive in any direction and you're sure to bump into one. Many castles are now just ruins but many have been renovated back to their former glory and some are now hotels. On this page, you will find our list of recommended castles & country houses to stay in.
---

Image: Temple House, County Sligo
---
Temple House, County Sligo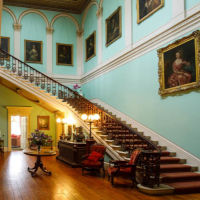 Have you ever wondered what it would be like to stay in a luxury Country House? Have you dreamt of walking in the footsteps of the past? Well here at Temple House you can do that and a lot more.
An amazing avenue leads you up to a luxury Country House in Classical Georgian style, nestled in over 1000 acres overlooking a 13th century castle that was the home of the Knights Templar. If you stand outside and close your eyes, you can almost hear the horses ride by and the Knights discussing their conquests.
Temple House has been the Perceval Family home since 1665 and was redesigned in 1864 and is still a true authentic Country House. Temple house caters for a varied style of break from select overnight romantic liasions through to rental of the complete establishment. Families are welcomed and there is even a select Cottage within the grounds that can be booked.
Read more
---
Cabra Castle, County Cavan
From the moment you arrive through the 100 acres of beautifully manicured gardens and parkland to this magnificent 19th century 4 Star Castle Hotel & Wedding Venue in County Cavan, Ireland, you will feel totally welcomed and thoroughly spoiled.
Castles, with their nooks and crannies and ancient histories, are made for exploring. Wander through the magnificent reception rooms, find a quiet corner or fireside to relax with a book or just enjoy the atmosphere in one of the best known Castle hotels in Ireland. Period features and furnishings create an authentic, old-world charm and a long tradition of warm and friendly service make Cabra Castle the perfect retreat from the pace of modern living.
Set on 100 acres of parkland and garden, with the magnificent backdrop of Dun a Ri Forest Park, there is much to explore both indoors and out. Along the way you may uncover some of the past secrets of gracious living and a bygone age.
This Castle Hotel is officially a building of intrinsically significant, historical and architectural interest, and as such is open to the public between the hours of 11.00am and 4.00pm daily for viewing, year round (closed December 24th, 25th and 26th).
Visit Website
---
Markree Castle, County Sligo
Extensive renovations have been completed at Markree Castle to ensure the comfort of guests and the future of the castle. At every stage of the renovation process the character and history of Markree, has been protected and restored. Furniture and orignal features have been painstakingly rebuilt and reclaimed. The considered redecoration and modernisation of the castle has allowed the castle to reclaim its position as one of the finest historic homes and luxury accommodation options in the country.
Visit Website
---
Lough Cutra Castle, County Galway
Rent a Castle - Lough Cutra Castle is a self catering private family home that can accommodate up to 17 guests in 9 luxurious bedrooms, with an additional 23 in the courtyard homes for a total of 40 guests on the estate. An exclusive but central location on Ireland's Western seaboard in Gort, Co. Galway, Lough Cutra was designed by John Nash who worked on Buckingham Palace. The estate has been privileged to host discerning guests such as His Royal Highness Prince Charles and Duchess of Cornwall Camilla, Irish President Michael D Higgins, Bob Geldof, Lady Augusta Gregory and WB Yeats. The countryside surrounding Lough Cutra holds many a story, dating back centuries.
Visit Website
---
Killiane Castle, Wexford
Killiane Castle is situated in the south east corner of Wexford, on a narrow leafy country road – a haven of tranquility, "far from the madding crowd". Enjoy the peaceful seclusion afforded by their luxury 5 star accommodation in the well preserved 17th century house, adjoining the imposing 15th century castle, nestled in the lush Wexford countryside.
Visit Website
---
Blackwater Castle, County Cork
A medieval Castle for rent in Ireland, the spectacular home of the former Viscount of Fermoy and Lords of the Barony of Fermoy, is a truly unique heritage site of international significance. Blackwater Castle, with a history extending back to the Mesolithic period, is now available to hire as a private Castle experience for exclusive Castle weddings, private parties, and family gatherings.
Visit Website
---
Lisheen Castle, County Tipperary
Lisheen Castle is a family owned, lovingly restored Irish castle that offers week long Ireland tours to it's guests or luxury self catering vacation rentals for groups of up to 16 guests.
The castle is ideally located centrally in Ireland making it the perfect base for taking day trips to many of the magnificent visitor attractions of Ireland. The Irish Castle enjoys a beautiful rural setting overlooking a typically Irish landscape of green fields and rolling hills.
Visit Website
---
Springfield Castle, County Limerick
Welcome to Springfield Castle, the ancestral home of Lord and Lady Muskerry. The castle is situated in the heart of County Limerick on a magical 200 acre wooded estate and is approached along a magnificent three quarter mile long avenue, lined with ancient lime trees. An ideal vacation place for you, your family and friends. A place to unwind and relax whilst on your luxury Irish castle stay.
Visit Website
---
Ballybur Castle, County Kilkenny
A luxury self-catering holiday home in the beautiful county of Kilkenny, Ireland. The Castle has five floors, each beautifully furnished and decorated maintaining a traditional medieval atmosphere.
Visit Website