Historic houses in Ireland
A trip back in time with some of Ireland's oldest accommodation.
From secret gardens to great halls resembling a scene from a Harry Potter film, Ireland's grand old houses have something for everyone. On this page we have listed a few historic houses / castles that have opened their doors to guests who would like to stay the night. Our list of the best castle accommodation in Ireland can be found on our Stay in a Castle page.
---

Image: Historic houses in Ireland, Ballyportry Castle, Co Clare
---
County Armagh
Dean's Hill, Co Armagh - (Sleeps up to 4) - In the 18th century, the Dean of Armagh's Church of Ireland cathedral required a residence appropriate for someone of his standing. In 1772, Dean's Hill was built. Constructed for comfort, the house's grand bedrooms boast handsome open fires and large sash windows. Wooded grounds provide a secreted escape for philosophical rambles.
County Clare
Ballyportry Castle, Co Clare - The Gaelic Tower House of Ballyportry contains six bedrooms and two bathrooms with showers as well as a guest bathroom at the ground floor entrance. Ballyportry sleeps between four and eight guests comfortably - Visit website
---
County Fermanagh
Belle Isle, Co Fermanagh - (Castle sleeps up to 16) - Situated on the northern tip of Upper Lough Erne, Belle Isle is a 470-acre estate spread over eight picturesque islands. Inhabited since the 12th century, the estate today offers a wide range of attractive self-catering accommodation to suit all tastes and budgets - Visit website
Crom Castle, Co Fermanagh - 2,000 acres of parkland. Stay in the castle's West Wing, take a jaunt on the Lough Erne in their new cot boat, or cruise onboard the Innishcruiser. The West Wing is the ultimate in luxury castle rentals. The Irish home of Lord Erne's son, Viscount Crichton, it exudes all the charm of a personal residence, whilst offering the most modern facilities in line with its five star accreditation from the Northern Ireland Tourist Board - Visit website
---
County Kilkenny
Clomantagh Castle, Co Kilkenny - (Sleeps up to 10) - It is a perfect setting for anyone wishing to be 'King' or 'Queen' of the castle. Clomantagh Castle is part of a unique settlement of tower house, farmhouse and bawn. The tower (1430s) and the farmhouse (1800s) are linked by doors allowing guests to wander freely between two periods of history - Visit website
---
County Mayo
Turin Castle, Co Mayo - (Sleeps up to 12) - Turin Castle near Ballinrobe in County Mayo, Ireland is a unique medieval castle set against the backdrop of picturesque countryside. This exclusive and intimate venue is the perfect location for a romantic, castle wedding, parties or family gatherings. The castle can cater for up to 25 people in the great hall for a meal and it can provide accommodation for a maximum of 12 people - Visit website
---
County Monaghan
Hilton Park, Co Monaghan - (Sleeps up to 12) - Hilton Park has been welcoming guests since it was built as a family home in 1734. Today the tradition of hospitality lives on with, luxury accommodation and authentic country house food, much of which is sourced from the estate - Visit website
---
County Sligo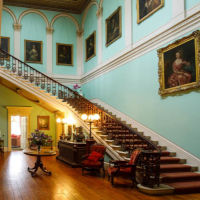 Temple House, Ballymote, Co Sligo - Have you ever wondered what it would be like to stay in a luxury Country House? Have you dreamt of walking in the footsteps of the past? Well here at Temple House you can do that and a lot more.
An amazing avenue leads you up to a luxury Country House in Classical Georgian style, nestled in over 1000 acres overlooking a 13th century castle that was the home of the Knights Templar. If you stand outside and close your eyes, you can almost hear the horses ride by and the Knights discussing their conquests.
Temple House has been the Perceval Family home since 1665 and was redesigned in 1864 and is still a true authentic Country House. Temple house caters for a varied style of break from select overnight romantic liasions through to rental of the complete establishment. Families are welcomed and there is even a select Cottage within the grounds that can be booked.
Read more